Come Enjoy our Gluten-free Japanese Crêpes with a Tokyo twist!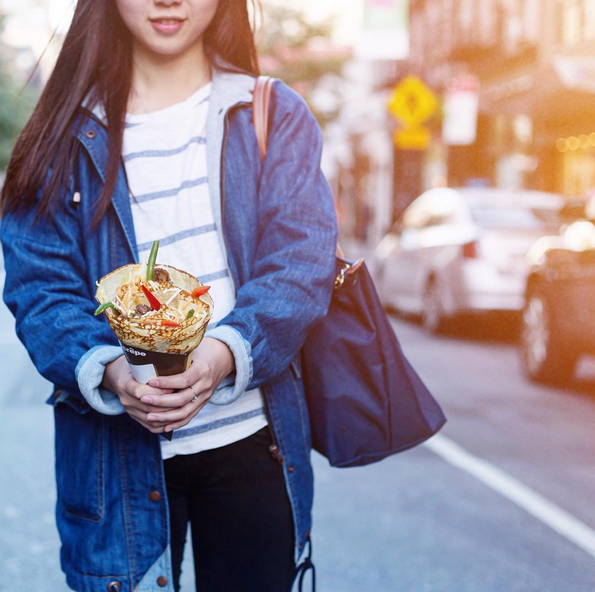 As you crack open the door, the initial whiff is enchanting. The air perfumes with aroma of fresh fruits and savory bacon as you walk closer to the counter. Once there, you are greeted with an inviting smile; letting you know that you are about to embark on a mouth-watering adventure. We have sweet and savory crepes that can satisfy your taste buds.

Our experts skillfully pour the exact amount of batter, and the placement of each ingredient to produce the perfect crepe. Each bite, no matter sweet or savory, is identical and bursting with fresh exquisite flavor.

Come visit and embark on a memorable journey of your senses. We hope to see you soon!

Follow us for news, updates and promotions!
We are constantly updating our food & beverage options. Be sure to be in the loop by following us on Instagram!
Follow @tswirlcrepe
"Great! Super crepes. We had one chocolate and Nutella and a caramel apple with custard. Highly recommend!"

Za M.

Fort Lee, NJ

"We got our crepes to go, and they were super crispy and light. We got the mixed fruit (pictured) and our friends got the blueberry cream cheese and chocolate ones.! 😁"

Silvia S.

Tenalfy, NJ

"Wonderful place. Very calm and clean, me and my wife tried the Mango deluxe and the T-swirl LBT. The price is affordable and fantastic service!"

Leandro F.

New York, NY
244 Main Street
Fort Lee, NJ 07024
Email: tswirl.fortlee@gmail.com
Phone: (201) 363-8838
For Directions: Click Here!
Give us a call or drop by anytime, we endeavour to answer all enquiries within 24 hours on business days.
We are open 7 days a week!
Mon - Thu: 11:30am — 9:00pm
Fri - Sun: 11:30am — 9:30pm